Dr. Scott Finlay is an experienced implant dentist located in Annapolis, MD. For patients missing most or all of their teeth, he offers several options to replace them including implanted supported and traditional bridges and dentures. In the past, Dr. Finlay would replace multiple missing teeth with traditional removable dentures or fixed bridges.
However, thanks to advances in dental technology over the years, teeth implants have become the best solution for missing teeth. Multiple dental implants can firmly hold dentures and dental bridges in place. They are also better for your oral health, will prevent jaw bone loss, and require less maintenance. Your new teeth will look, feel, and function like natural teeth.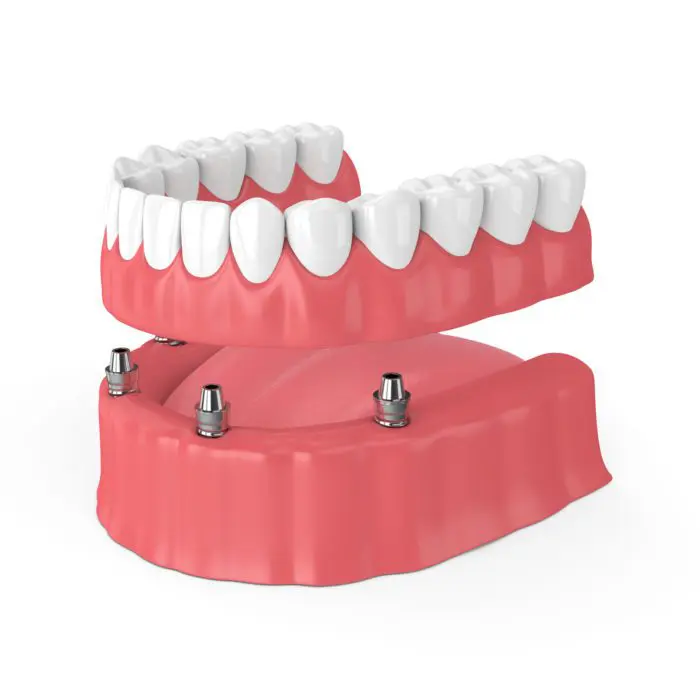 Dr. Finlay uses 2-D and 3-D imaging to design the perfect set of restorations. He also works closely with a select team of leading oral surgeons throughout Annapolis and Baltimore to place your implants.
Multiple Dental Implants Solutions
Implant-Supported Bridge
Dental bridges are used to replace several missing teeth in a row. They are made up of two dental crowns located on each end with false teeth located in the middle (the pontics). Fixed bridges are typically used to replace one to three consecutive missing teeth but the process requires that two teeth on each side of the gap be reduced to secure the bridge. Those adjacent teeth are also responsible for supporting the whole bridge.
Dental implants can also be used to support a dental bridge. This solution will not damage healthy, remaining teeth and will better support the restoration. You will have at least two dental implants surgically placed in the jaw and a custom-made dental bridge will be secured to them. The implants will also provide structural support for the jaw and bite.
Implant-Supported Denture
A traditional denture is used to replace an entire row of missing teeth. They have successfully been used for years to return aesthetics and function to edentulous patients.
A traditional removable denture will replace the crowns of the missing teeth, but not the roots. The false teeth will be attached to a gum-colored base that is held in place by forming a suction/seal with the gums. Sometimes, an adhesive is required to help hold it securely in place.
A far more superior option is to secure a denture to dental implants. As little as four implants that have been surgically implanted into the jaw bone can hold the restoration in place. Dentures supported by implants will prevent bone loss in the jaw and allow for a greater chewing force. This lets the patient eat a great variety of food. Your dentist will determine how many implants you will need and strategically place them along the arch. Then he will attach a custom-made denture that will complete your smile.
---
If you are missing all or most of your teeth and looking for a permanent solution to replace them, call Dr. Finlay today to schedule a consultation. Replacing multiple missing teeth with an implant-supported denture or bridge is the number one permanent solution available today.