Invisalign® is quickly becoming the first choice for patients who want straighter teeth without metal braces. This system uses clear aligners, which are like retainers, to gently move teeth into proper position. Dr. Scott Finlay offers Invisalign in Annapolis, MD.
Using CAD/CAM software, Dr. Finlay can change the position of your teeth and view the end result before treatment begins. The software also gives us the exact measurements for the clear plastic aligners. Invisalign aligners are made of a clear, hard-soft plastic and won't damage your teeth, gums, or TMJ.
Invisalign may be used at the same time as other restorative dental treatments in order to position and align teeth. This will help to reduce the number of teeth needing treatment and/or facilitate a more conservative restorative technique. This is often the case for patients with complex bite problems or crooked teeth which can result in an uneven bite.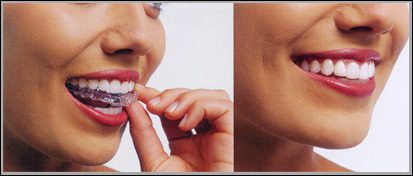 Benefits of Invisalign
The Invisalign clear aligner system is the easiest way to straighten your teeth and achieve the smile you have always wanted. Many people worldwide enjoy the benefits that invisible braces offer. They are a discreet and comfortable treatment for adults and teens who do not want to deal with metal braces. These tend to be uncomfortable, bulky, and hard to care for. Adults who experience shifting teeth after previous orthodontic treatment can also benefit from it.
One of the key benefits of using Invisalign is that patients can easily remove the aligners. This allows them to eat a normal healthy diet without any diet restrictions. You will also be able to perform your normal oral hygiene routine easily.
Patients are less likely to get tooth decay or stains that we see with metal braces. In some cases, the Invisalign treatment is even faster than traditional metal braces.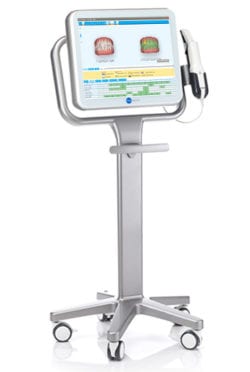 A more effective way to align your smile
Our Annapolis dentist office has the newest, most advanced tools and technology to implement the best possible experience for our patients. We use the iTero Element Intraoral Scanner, a digital scanner.
About the iTero Element Intraoral Scanner
Invisalign® Outcome Simulator: Dentists can create an image of what the patient's smile will look like.
3D Progress Assessment Feature: See comparisons between each specific stage of your customized Invisalign treatment plan.
Real-Time Visualization: Patients can see their current and projected smile right on the computer screen.
The Process for Invisalign® in Annapolis, MD
The first step is a consult with your dentist. He will meet with you to evaluate your oral health and see if Invisalign is right for you. Dr. Finlay will then take impressions and 3-D images of your teeth and jaw. The lab will use these to make your clear aligners. We will also be able to show you what your new smile will look like during and after treatment.
We will send the images and models to the Invisalign® lab. They will make your clear aligners according to your treatment plan. You will receive a few sets of clear aligners at a time. You will wear each set for about for about two weeks to gradually reposition the teeth.
The length of your Invisalign treatment and the number of aligners you receive depends on how bad your dental health concerns are and what your cosmetic goals are. Most people will finish the treatment in 6 to 9 months, but some patients may achieve the results they want in as few as 3 or 4 months.
Though Invisalign aligners can sometimes cost more than traditional braces, many find that the aesthetic benefits outweigh the cost. There is the additional option of whitening the teeth while your orthodontic treatment is being completed!
FAQs about Invisalign
Is the Invisalign process painful?
Patients do not feel any pain during the Invisalign process. It may take some time to get used to wearing them if you have never worn braces or clear aligners before, but there is no pain. You may feel some discomfort initially because there is some pressure on your teeth. You will get used to the feeling and not notice as much after your second or third set of aligners.
How long do I have to wear Invisalign?
This depends on your specific dental situation. If you have mild crooked teeth issues, you may need to wear Invisalign for no more than a year. If you have more moderate to severe issues, you may have to wear your clear aligners for over a year. Only our dentist can tell you how long your treatment plan should be.
What happens after Invisalign?
After your treatment ends, you will need to wear a retainer. This will ensure that your Invisalign treatment results remain, and your teeth do not revert back to their crooked position.
---
In addition to being an Invisalign provider, Dr. Finlay provides a range of dental services in Annapolis, MD. To learn more about Invisalign, call our Annapolis, MD dentist office at 410.989.7132 or request an appointment online.