Dental crowns, also called dental caps or teeth caps, add strength to teeth and improve overall function and aesthetics. They fit securely over damaged teeth to create a more balanced and beautiful smile. Dr. Scott Finlay provides natural looking crowns and more dental services in Annapolis, Maryland.
This type of dental restoration is used to repair cracked or crooked teeth, as well as other flaws and a range of dental concerns. Dental crowns can be used as a stand alone cosmetic dental treatment or coupled with restorative dental procedures, such as root canals. They will support your long term oral health and blend in naturally.
Dental Crowns Before & After
"For along time, I was truly embarrassed and ashamed by my teeth. I rarely smile and when I did I always covered my mouth. Now I smile all the time and with confidence."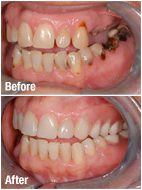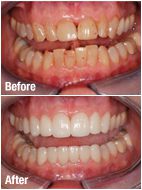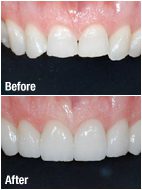 Many patients attest to the comfort and natural beauty of dental crowns. We have success stories from Annapolis and the Baltimore, Maryland area. See more dental crown before and after photos and read more patient testimonials in our smile gallery.
Porcelain Dental Crowns
There are many options for materials that dentists can use in dental crowns. However, Dr. Finlay chooses porcelain dental crowns because of their superior esthetics and long term durability. They are also tooth colored to blend in naturally with the rest of your smile. Once thought to be less durable than metal crowns on teeth, the porcelain material has excellent long term results with proper treatment planning.
Metal free dental crowns do not discolor the gum area like metal dental caps. Especially in the smile zone, metal free dental crowns are the gold standard for creating a beautiful, natural looking appearance.
What To Expect During Treatment
Whether it is just one tooth or several teeth, tooth crowns can provide a dramatic improvement in the overall appearance of your smile. Caring for dental crowns is just like caring for your natural teeth. It is always important to maintain a routine schedule of dental cleanings and evaluations to ensure the best long-term results.
Many patients avoid the dentist because they fear dental treatment will be painful and complicated. The process for placing crowns on teeth is actually quite simple.
Step 1 – Comprehensive Evaluation
The first step in the process of creating crowns for teeth is a comprehensive evaluation. Dr. Finlay will perform a physical evaluation to inspect the teeth, gums, jaw joints, and other support structures of the mouth, carefully looking for signs of stress, decay, or instability. Diagnostic x-rays, molds, and impressions, will paint a clear picture of the condition of your mouth so that Dr. Finlay can address any health or functional concerns during treatment
Step 2 – Treatment Planning
Consider treatment planning like a set of blueprints for an architect. Dr. Finlay uses 2-D and 3-D models to demonstrate and test the proposed treatment using dental crowns.
Step 3 – Tooth Preparation
To prepare the tooth for a dental crown, Dr. Finlay will remove a small amount of the natural tooth structure. Oftentimes, he will place a provisional or temporary crown on the tooth until your final restoration is ready.
Step 4 – Final Restoration
Because so much planning goes into the treatment process, the final step is quite simple and predictable. Your dentist will place the porcelain dental crown on the tooth and permanently bond it in place.
Dental Crown FAQs
Are dental crowns painful?
No, the dental crown procedure is not painful. It's similar to getting a tooth filling. When your dentist places dental crowns, they will use an anesthetic to numb the area. You should not feel any excessive pain during this procedure or after the procedure.
How long do dental crowns last?
Dental crowns typically last about 15 years. However, if maintained properly, dental crowns can last up to 30 years. Diligent brushing and flossing, as well as using mouthwash will greatly increase the lifespan of your dental crown.
Am I a candidate for dental crowns?
Most patients are viable candidates for dental crowns. If you suffer from bruxism, or teeth clenching and grinding, you should get treatment before getting dental crowns. Constant pressure on dental crowns can cause damage. Dr. Finlay is a dentist in Annapolis that will do a complete oral health exam to determine if you qualify for dental crowns.
---
Request a Dental Exam Today
Whether you have a damaged tooth or several blemished teeth, dental crowns help you achieve the smile of your dreams. They are the most practical treatment option to repair these issues. We can custom design a dental crown out of high quality porcelain for a beautiful and natural look. Contact our restorative and cosmetic dental office to learn more about dental crowns. We offer financing options for your convenience. Our state of the art dentist office is located in the Greater Annapolis and the Baltimore, Maryland area. Call us today at 410.989.7132 or request an appointment online.