Dr. Scott Finlay offers many different types of dental implants at his dental practice in Annapolis. The process to have your missing teeth replaced with an implant-supported dental restoration will take at least four months and many visits to the dentist.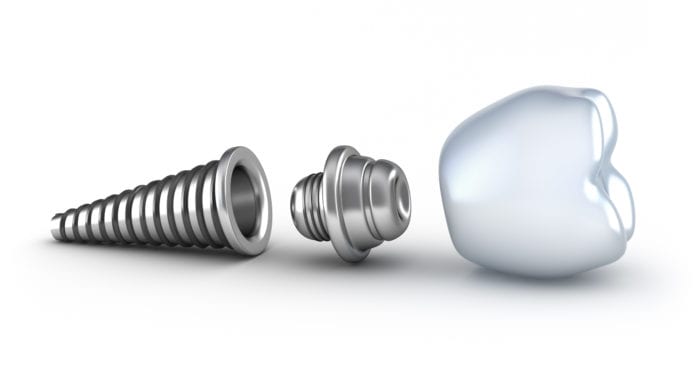 The Dental Implant Process
Treatment Planning
The first step in the implant process is treatment planning. This is the most important step because it will map out your entire, personalized treatment plan. We will make one to meet your needs after a full mouth exam and review of your medical history. To qualify for dental implants, you must be in good health and have enough bone structure to support the implants.
Preparation
Whether you need preparatory procedures is solely dependent upon your current health. Some patients will need to have a sinus lift or bone graft to build up the bone structure if they have suffered from significant bone loss. It is also very important to be in excellent oral health before placing the implants. If you suffer from gum disease, your dentist will need to address this first. If you use tobacco, you will need to work on quitting. Dental implants require a healthy environment to ensure proper healing. Some of your teeth may require extraction and then time to heal before surgical implantation.
Placing the Implants
The placing of the dental implants will require a surgical procedure. An experienced, local oral surgeon will do this portion of he process. This is a routine procedure that will take anywhere from one to three hours. It just depends on how many implants you need. They will be left to heal for about four months (more or less depending on your case). During this time, the implants will fuse with the jaw bone making them very durable.
Placing the Abutment
An abutment is a small piece that secures the restoration to the implant. Once the implants have completely fused with the surrounding jaw bone, the next step is to connect this piece to the implant. During this procedure, the gums are opened back up, the abutment attached and the gum tissue is left to heal for a few weeks.
Placing the Restoration
Dr. Finlay will attach your permanent dental restoration at his Annapolis, MD dentist office once you are all healed. This will be an implant supported dental crown if you are only missing one tooth. If you are missing several teeth in a row, he will attach a dental bridge to at least two dental implants. If you are missing most or all teeth on an arch, he will attach a denture to up to eight dental implants.
How long will my entire implant process take?
Each patient will have a completely different experience. We can replace a single missing tooth in under six months. If you need any of the above-listed preparatory procedures, however, then your treatment will take much longer. Severe cases can take up to a year to complete.
Please schedule a consultation with Dr. Finlay at his Annapolis dentist office to learn more about how long your treatment will take. This will also allow you to learn more about the cost of your implant treatment and to ask any questions you may have.
---