Dental implants are a state-of-the-art option that provides a permanent solution for missing teeth. Since 1989, Dr. Finlay has restored hundreds of smiles with dental implants at his Annapolis dental office.
The most important component of Dr. Finlay's approach is treatment planning. Before any work is done, Dr. Finlay completes a comprehensive exam and uses 2-D and 3-D imaging to design the perfect set of restorations. Replacing teeth is a collaborative process. Dr. Finlay & Associates work closely with a select team of leading oral surgeons throughout Annapolis and Baltimore.
What is a Dental Implant?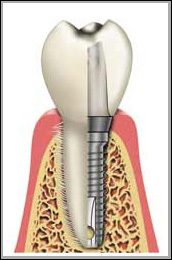 A dental implant is a metal post that will secure a false tooth (or teeth). An implant will also act as a missing tooth root. A surgeon will place it in the jaw bone making it very stable. The dental implant system completely replaces an entire missing tooth or set of teeth. One implant will secure a dental crown. Multiple implants will secure a dental bridge or a set of dentures.
Implant vs. Bridge
A traditional dental bridge is not as predictable or long lasting as a dental implant. In some cases, a bridge is less expensive. However, it generally needs more maintenance than a dental implant over the same lifetime. To secure a bridge, your dentist will need to reduce the size of the adjacent teeth. With a dental implant, no healthy remaining teeth are harmed.
The Dental Implant Process
Treatment planning is the key to the success of your dental implants. Your dentist will complete a exam to determine if you are a candidate for dental implants.
You should be in good health and have enough bone structure, among other factors. Your dentist will then design a detailed treatment plan that is customized to your needs. He will coordinate several steps in the process with a trusted team of providers.
The next step is the surgical placement of your dental implants. A local oral surgeon will complete this phase of the process. The dental implants will be left to heal and fuse with your natural bone. They will serve as the stable anchors for the new teeth.
The healing process can take up to 4 months. Meanwhile, a lab technician will make your dental restoration, either a dental crown, dental bridge, or denture. Dr. Finlay will coordinate the entire treatment and restore the dental implant with the final restoration.
Dental Implants Before & After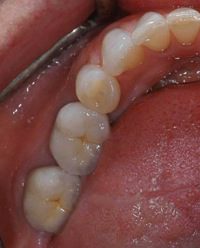 ---
Caring For Dental Implants
The restored dental implant is an incredibly durable part of your smile. Regular checkups are an important part of your ongoing dental care. At these visits, we will provide ongoing treatment including routine repairs and maintenance for dental implants. Additionally, a strict at home oral care routine is very important.
---
Dental Implant Technology
Dr. Finlay stays on the cutting edge of modern tools and software. He completes extensive continuing education to learn the latest techniques in dental implants.
Dr. Finlay also uses CAD/CAM for more precise treatment. This is a type of computer aided technology that dentists use. It allows him to create custom abutments, fixtures, and dental restorations. These dental materials will help create natural looking replacement teeth using strong, tooth colored materials.
Dental Implants FAQs
Are dental implants covered by insurance?
Some dental insurance plans do cover part of the dental implant process. Depending on your insurance plan, they may cover as much as 50 percent of the implant procedure. However, some do not cover anything. Contact your dental insurance provider for specific coverage options. You can also contact us for more information and financing options.
Do dental implants require special care?
No. Dental implants do not require extra maintenance on top of regular tooth brushing and flossing. Not only does a dental implant look and function like a natural tooth, but it also requires minimal adjustments to your existing oral care routine.
How long does a dental implant last?
Your new dental implants should last a lifetime or well over 25 years. Dental implants are designed to be a permanent tooth replacement option. Therefore, you will not need to replace in the future. With proper care, teeth implants can last a lifetime.
Learn More About Dental Implants
Call our Annapolis, MD dentist office at 443–276–4094 or request an appointment online.