It's often the simplest things in life we take for granted until we lose them. Like a smile, for example. There is nothing more revealing about someone's emotion and personality than their smile.
Cosmetic Dentistry Statistics
3 out of 4 American adults feel that an unattractive smile can hinder a person's chances for career success.
99.7% of Americans believe a smile is an important social asset.
What does your smile say about you? If you have been searching for a great cosmetic dentist to give you a beautiful smile and help you regain your self confidence, you've come to the right place.
Top Annapolis Cosmetic Dentist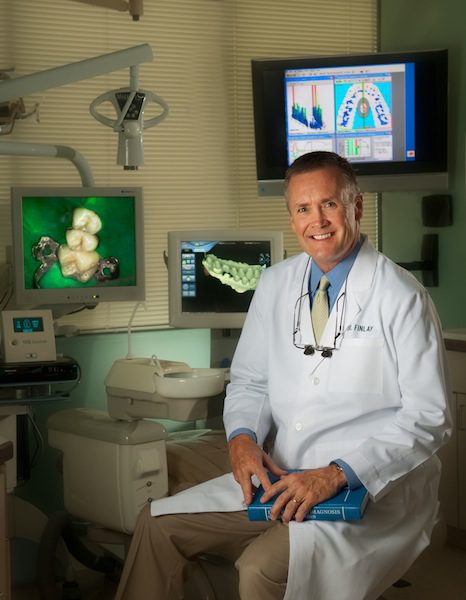 Dr. Scott Finlay is a one of the top dentist in Annapolis and leading dentists in the United States. His extensive career in cosmetic dentistry is what sets him apart. He is an Accredited Fellow by the American Academy of Cosmetic Dentistry. He happens to be one of 50 dentists nationwide and the only one in the Annapolis area to hold this recognition. Dr. Finlay is also a senior faculty member at the Dawson Academy. This is a leading dental continuing education and research facility.
---
"The Dawson Academy Names New Resident Experts"
Dr. Finlay was named one of four Resident Experts by the Dawson Academy. Dr. Finlay is often asked to speak at various events. He was called by the AEGIS Dental Network, "one of the world's most recognized dentists in the area of esthetic dentistry…"
---
Cosmetic Dentistry – More Than A Pretty Smile
Cosmetic dentistry can give you a beautiful smile. However, there is so much more to it. As a leading cosmetic dentist, Dr. Finlay will also focus on enhancing the form, function, and health of the mouth.
A healthy smile is naturally pretty and attractive. With each treatment option, we will ensure that it supports your long term oral health. The results will not likely last if we apply cosmetic treatments on unhealthy teeth.
---
Is Cosmetic Dentistry Right For You?
Smile enhancement can range from simple smile whitening to a complete smile makeover. Cosmetic dental concerns can be due to dental disease, trauma, or congenital conditions. Regardless of the extent of these conditions, the impact of a smile on someone's life can be as significant to the individual as to those around them.

"Growing up, I always hid my smile because people called me snaggletooth. Although this hurt my feelings, I was too apprehensive about going to the dentist. Dr. Finlay's compassion and expert skills transformed my smile…look at me now."
Read more patient stories in our Before & After Gallery.
---
Choosing the Right Cosmetic Dentist
There are many dentists that offer cosmetic procedures. However, there are only a few with the experience and training to match Dr. Finlay. Our cosmetic dental treatment plans balance the complexities of smile design to produce optimal results.
What To Expect From Cosmetic Dentistry
First, Annapolis dentist Dr. Finlay will meet with you to discuss your cosmetic concerns and goals. Do you want a Hollywood smile or do you prefer a more natural appearance? Your dentist will also perform an evaluation to assess the health of your mouth, teeth, gum, jaw joints, and more.
Next, he will outline cosmetic dentistry treatment options. He will consider your goals and health concerns in this treatment plan. Your dentist will work with you to create realistic goals for your oral health and appearance.
There are many ways to achieve the "perfect smile." Dr. Finlay offers a wide range of cosmetic dentistry treatments including:
Dr. Finlay offers more dental services in his Annapolis dental office.
Getting the Smile You Want Is Easy
Many patients avoid the dentist because they think treatment will be painful and expensive. Dr. Finlay strives to make each patient feel comfortable, putting them at ease about anxiety over treatment.
When it comes to paying for cosmetic dentistry treatment, Dr. Finlay offers a number of affordable financing programs.
---
Schedule a Cosmetic Dentistry Consultation
Don't hide your smile because of embarrassing dental problems. Contact Annapolis cosmetic dentist, Dr. Scott Finlay, to schedule a consultation and learn how cosmetic dentistry can transform your smile and your life.