A dental implant is an artificial tooth root that is permanently fused with the jaw bone and used to anchor replacement teeth. Dr. Scott Finlay is a talented implant dentist located in Annapolis, MD. He uses them regularly in his practice to help patients efficiently and effectively replace their missing teeth. If you suffer from missing or failing teeth, Dr. Finlay will create a treatment plan using dental implants that is customized to your needs and goals.
What is a Dental Implant?
An implant restoration is typically made up of three separate parts. These include the implant, the abutment and finally, a custom-made dental restoration. Together these parts will effectively replace one or more missing teeth.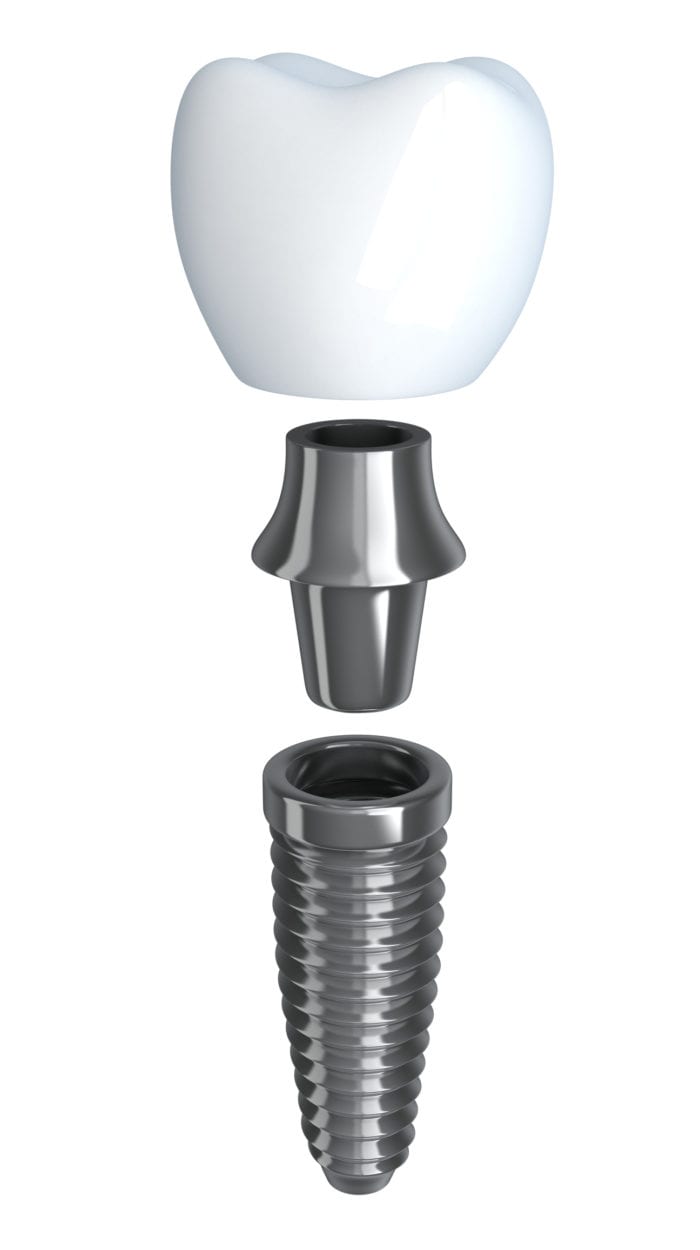 The Implant
The dental implant itself is what provides a strong base for the restoration. They are made of various materials but titanium implants are the most popular. Titanium is a type of metal that is well accepted by the human body. It is not heavy but it is very strong. The implant is similar to a small screw with threads.
This piece must be surgically placed into the jaw bone via a surgical procedure. Anywhere from one to eight implants can be placed on an arch depending on the type of restoration being used. Once they are surgically implanted into the jaw, the titanium posts will completely fuse with the surrounding bone to create a stable base to secure the restoration. They will also serve as a tooth root replacement to help prevent bone loss.
The Abutment
An abutment is a small piece that will connect the implant to the restoration. They are also typically made of metal and will be attached after the implant has completely fused with the jaw bone. Placing the abutment will require opening up the gums during a minor procedure. Afterwards, you will need a few more weeks to heal before the permanent restoration can be attached.
The Dental Restoration
The dental restoration is the final piece to be attached. This is the part that will be seen and will function like natural teeth. The type of restoration that will be placed depends on the number of teeth that are missing and where they are located in the mouth. A single missing tooth will be replaced by a dental crown.
If you have several consecutive missing teeth, a dental bridge will be used to replace them. For an entire arch of missing teeth, a denture will be custom-made to replace all your teeth. Dr. Finlay will create a custom restoration that will blend in naturally with the rest of your smile.
---
Choosing dental implants to replace your missing teeth is an easy decision once you see what they are comprised of and how they work. No other tooth-replacement option is as sturdy as an implant secured restoration. To get started with the implant process and to learn more about them, schedule a dental implant consultation with Dr. Finlay at his Annapolis, MD dentist office today.