Porcelain veneers are thin shells that cover the front and sides of the tooth. However, these delicate restorations are very strong. They provide a natural looking enhancement to your smile.
Dr. Scott Finlay of Annapolis, MD uses only the finest materials. We work with the leading dental labs to create dental veneers that look, feel, and work like natural teeth.
Benefits of Porcelain Veneers
Teeth veneers provide a number of health and cosmetic benefits:
Improve the appearance of small gaps and spaces between teeth
Repair small chips and cracks
Hides stains and uneven texture
Reduces food getting stuck between teeth for better health
Teeth with porcelain veneers appear brighter, whiter, straighter, and more beautiful. Our goal is to create a smile that compliments your face and looks like it belongs there.
We will measure your mouth and teeth during the treatment planning phase. If the dentist finds any oral health problems, he will suggest treatment. This will prevent future damage and wear to the porcelain veneers and ensure they last for many years.
Veneers vs. Lumineers and No-Prep Solutions
The marketing of products like Lumineers has made no prep restorations very popular. Dr. Finlay offers products similar to Lumineers. The options we offer are more predictable, durable, and natural looking.
Minimal prep veneers are ideal for patients with minor concerns such as:
Color
Slight surface blemishes
Minor spaces
Protecting the tooth structure is important. In Dr. Finlay's experience, not applying the no prep veneers correctly due to limitations will produce bad results. Your teeth will likely look bulky or fake. No prep veneers can also cause gum disease if they are not applied the right way.
Porcelain Veneers: The Design Process
Dr. Finlay follows a four step smile design process:
Evaluation
First, we do a complete evaluation to examine your teeth, gums, mouth, jaw joints, and muscles.
Cosmetic Imaging
Then, we use 2-D and 3-D imaging to see what your teeth will look like after treatment. Cosmetic imaging allows you and the dentist to see the outcome before long lasting changes are made.
Temporary Veneers
Next, Dr. Finlay creates interim veneers. The temporary teeth veneers ensure you are happy with the look and feel. We send a copy of them to a dental lab. The lab techs will use them as models to hand craft your teeth veneers.
Final Placement
The dentist will bond the final porcelain veneers to your teeth. Then they will gently polish them, and adjust them for color if necessary.
Porcelain Veneers FAQs
Will porcelain veneers stain my teeth?
Dental veneers will not stain your teeth. They are free of harmful chemicals that will not stain your teeth or eat away at your tooth enamel. Porcelain veneers are are made of a highly stain resistant material. This is actually a great way to protect your teeth from stains.
Are there alternatives to porcelain veneers?
There are other options besides veneers. They include tooth bonding and dental crowns. Although, these options may not give you the complete results you can get with porcelain veneers. Tooth bonding is not as durable and long lasting as dental veneers. Dental crowns require more tooth preparation than necessary if you only need veneers for aesthetic reasons.
Are porcelain veneers removable?
You will not be able to remove your dental veneers. Only a dentist can do that. The dentist will remove a small amount of the tooth's surface and then bond the veneer in place. Since they need to alter your tooth, it will need to have a veneer on it at all times to protect the tooth. However, your dentist can remove and replace the veneer if it ever becomes damaged. This means your smile will always look great.
---
AACD Accredited Fellow Cosmetic Dentist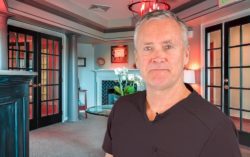 Dr. Scott Finlay is an Accredited Fellow in the American Academy of Cosmetic Dentistry. This is the highest credential awarded to a cosmetic dentist. Accreditation is a rigorous process that includes a written and oral examination and submission of numerous cosmetic dentistry cases. In addition, the dentist must show a dedication to continuing education, as well as a reputation for delivering excellence in cosmetic dentistry.
Dr. Finlay is the only cosmetic dentist in Annapolis to achieve this honor and one of only a few dentists in the Maryland, Baltimore, Washington, D.C. area. Find more information about cosmetic dentistry and the credentialing process online at AACD.com.
---
In addition to a porcelain veneer procedure, Dr. Finlay provides additional dental services in Annapolis, Maryland.
Call our Annapolis, MD dentist office at 443–276–4094 or request an appointment online.