Missing teeth can create major difficulties for patients, especially if they have lost three or more teeth in a row. Tooth replacement from your dental professional can resolve many of these concerns, but which treatment will work best with your unique dental needs?
If you prefer a device that you can take out of your mouth when needed, your dentist may recommend a removable dental bridge. Dr. Scott Finlay, a dentist practicing in Arnold, MD, responds to frequently asked questions about tooth replacement treatment with a removable dental bridge.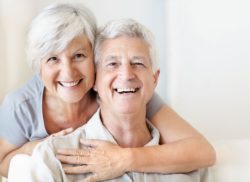 Why Should I Replace Missing Teeth with a Removable Dental Bridge?
As mentioned, a dental bridge can assist patients who have three or more consecutive missing teeth with eating, speaking, and performing other oral functions with ease. They can also fill gaps in a patient's smile, renewing confidence in their appearance that can positively affect other aspects of their lives.
The removable dental bridge serves as an affordable yet still effective tooth replacement option compared to a fixed, permanently placed device. Many patients appreciate the ability to take out their prosthetic teeth when needed to keep their mouth feeling comfortable.
How Will My Dentist Make This Dental Bridge?
Your dentist will use either digital imaging or a physical mold to create an impression of your smile. This will serve as a model off of which the dentist can construct a dental bridge that will fit comfortably in your mouth.
When creating a custom-made oral appliance to replace your missing teeth, your dental professional will consider the color of your remaining teeth and gums so that your final look will appear both natural and beautiful. The bridge will be made with acrylic or zirconia rather than traditional metal materials for optimal comfort when worn by the patient. Before you leave the dentist's office with your removable dental bridge, your dentist will ensure it fits properly and looks its best in your smile.
How Does a Removable Bridge Compare to Other Restorative Dental Treatments?
Though a removable dental bridge offers a vast amount of restorative and cosmetic benefits for patients who have suffered from tooth loss, many dentists will recommend fixed or implanted tooth replacement solutions instead. This is because removable devices tend to wear down or warp after a few years, and patients will require replacements.
Dental implants can provide additional advantages to the preservation of a patient's oral health. A removable device cannot replace a missing tooth root below the gumline, which means these patients could remain at risk of jawbone deterioration. The anchor of an implant in the jaw can protect the structure and health of the jaw.
Dental Bridges and Other Tooth Replacements in Arnold, MD
Annapolis Smiles offers dental bridges and other tooth replacement solutions to patients in Arnold, MD and the greater Annapolis area. Dr. Finlay also specializes in implant, restorative, cosmetic, and general dentistry, including periodontal care. To schedule a consultation or appointment with our practice, contact our staff by phone at 410.989.7132 or reach our office online.