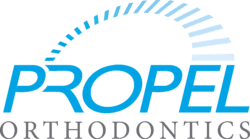 As a highly trained, dedicated dentist, Dr. Scott Finlay committed to staying at the forefront of dentistry. Our promise to provide high quality, advanced dental care has lead us on a journey to find the most innovative, effective technology in the dentistry market. As a testament to our promise, we are excited to introduce PROPEL Orthodontics Technology in our Annapolis dental office. We are now offering the Propel Orthodontic's VPro5 and Excellerator™ Series Drivers. When paired with your orthodontic treatment, Propel Orthodontics Technology can help you achieve a straighter smile in a shorter amount of time.
Benefits of Propel Orthodontics Technology:
Little to no downtime
Stimulate natural bone growth
Shift teeth quicker
Faster and more predictable results
Fast Track To Straighter Teeth
Propel Orthodontics VPro5™ utilizes gentle vibrations to ensure your aligners are seated properly. The VPro5 supports any active orthodontic treatment and retention in as little as 5 minutes a day. The VPro5 produces high-frequency vibration which can stimulate bone remodeling and lead to a faster, more predictable results. Our dentist can use the VPro5 to help patients achieve their desired results faster and with fewer visits to the dentist office. Patients with Invisalign, Six Month Smiles, and traditional braces can achieve exceptional results with Propel Orthodontics Technology.
Propel Orthodontics Excellerator™ Series Drivers are effective, easy to use devices. The Excellerator is used to create manual micro-osteoperforations in just a few short minutes. When your dentist creates micro-osteoperforations, it can accelerate the stimulation of bone growth in the upper and lower jaw. Your dentist can complete your treatment during your regularly scheduled appointment.  Patients can resume their normal activities immediately after their treatment. The Excellerator can work with any type of orthodontic treatment, including Invisalign, Six Month Smiles, and traditional braces.
Orthodontic treatment and the science behind tooth movement is a detailed process. Finding a dentist who fully understands your orthodontic needs can help you achieve a straighter, healthier smile. Visit our Annapolis dental office for the care you need.
Additional Resources  on Propel Technology
Learn More About Propel
The Propel Orthodontics System can help patients achieve faster results in a shorter amount of time. Propel Orthodontics System is great for patients of all types. To learn more about your options, visit Dr. Finlay in our Annapolis, MD dental office. To determine if Propel Orthodontics is right for you, call 410.989.7132 or request an appointment online.