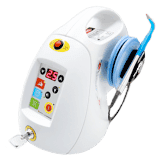 Dental soft tissue lasers, or diode lasers, provide a precise and effective way to perform dental procedures that require the management of contouring the soft tissue or gums. Procedures can be performed without the use of sutures and healing times are often greatly improved.
In some applications, this can even be accomplished without the need for local anesthesia! Some procedures commonly indicated for the use of this technology are:
Crown Lengthening: Dental lasers can reshape the gum tissue to help expose damaged areas of the teeth from decay or trauma so that the teeth can be adequately repaired.
Periodontal Plastic Tissue Recontouring: Dental Lasers can be utilized to sculpt soft tissue contours to provide a balanced visual architecture of the gums and soft tissues around the teeth, creating a more balanced esthetic smile.
Frenectomy: Dental Lasers can be utilized to resect excessive and limited muscle attachments for adults and children that may be "tongue-tied" or have an unusually low attachment that is affecting the health of the gums.
Management of Aphthous Ulcers and Herpetic lesions
Dr. Finlay has completed training and is certified by the International Center for Laser Education.