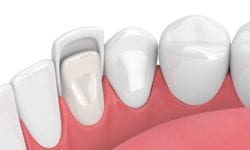 Porcelain veneers are a great option if you are looking for a quick fix to your current smile. Porcelain veneers are inexpensive compared to other cosmetic procedures that are offered as well as long-lasting. Porcelain veneers are perfect for addressing issues such as tooth discoloration, misshaped teeth, or if you simply do not like the way some of your teeth look. Porcelain veneers also have many advantages over other cosmetic solutions. For instance, veneers are virtually indistinguishable from your natural teeth and are stain and decay resistant.
Dental veneers were invented way back in the 1920s mainly for actors and actresses that needed a quick fix before hitting the big screen. They were a temporary solution back then, and have come a long way since then with the help of improved science and adhesives. Today, veneers are made of porcelain that can withstand much more punishment and crunchy foods and can last in upwards of a decade with proper care.
Benefits Of Porcelain Veneers
Stain Resistant

Porcelain veneers are popular options for patients who suffer from tooth discoloration, simply because they will cover just about any stain that you have. Also, they are stain resistant, and it doesn't get much better than being stain resistant.

Durability

Porcelain veneers are designed to last a very long time if properly maintained with good oral hygiene. Porcelain veneers can give you wonderful results for up to ten to fifteen years before needed to be replaced. No extra or special care is required; just normal good oral hygiene practices are needed.

Flexible With Other Treatments

Don't think that because you have porcelain veneers that they will interfere with other dental procedures that you will need in the future or currently already have.

Procedure & Recovery Time

Porcelain veneers feature almost no recovery time once complete as you can go right to enjoying your normal routines as soon as you leave our office.
Schedule A Consultation
Enhance your natural smile with custom porcelain veneers in Annapolis, MD. For a long-lasting treatment, schedule a consultation with Scott Finlay, DDS & Associates to find out if porcelain veneers are an option for you. Call our Annapolis, MD dentist office at 443–276–4094 or request an appointment online.