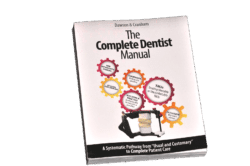 Annapolis, MD cosmetic dentist Dr. Scott Finlay was recently featured in, The Complete Dentist Manual published by the prestigious Dawson Academy. Dr. Finlay is a graduate of The Dawson Academy and provides his patients with complete dentistry, a philosophy that looks beyond the teeth to help patients restore the function and aesthetics to their natural smiles.
Dr. Finlay does not just practice complete cosmetic dentistry, he believes in it. Cosmetic dentistry based on building a  healthy oral foundation can change a person's life. Smile aesthetics build confidence and promote oral health.
In his published chapter in, The Complete Dentist Manual, Dr. Finlay writes,
"The greatest passion in my professional life continues to be helping my patients achieve the smile of their dreams. Dental esthetics is an underestimated asset to an individual's self-esteem and sense of self-worth."
"When Dr. Dawson invited me to participate in this project to describe how I approach the process of designing smiles for my patients, I was honored. Within the concepts of complete dentistry, esthetics in never an afterthought. It is our responsibility…"
"The creation of optimal dental esthetics requires a conceptual approach that includes specific, sequential steps in design, plus a definitive method of communicating every detail to the laboratory technician. The quality control process of determination, communication, and verification is essential for predictably successful results."
At Dr. Finlay DDS & Associates in Annapolis, MD our dental care team uses state of the art digital technology and unprecedented teamwork to achieve patients smile makeover goals. If you are looking for a Dawson Academy trained cosmetic dentist in the Annapolis, MD area, contact our dentist office for a personal and comprehensive cosmetic consultation.