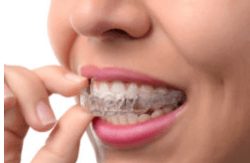 Have you always wanted straighter teeth, but feel like you have waited too long? With Invisalign, anytime is the right time to realign crooked teeth. Dr. Scott Finlay and Dr. Ha Lim offer Invisalign at their Annapolis, MD dentist office. Invisalign can discreetly correct mild to moderate orthodontic concerns for adult and teenage patients.
Invisalign Technology
Invisalign has become the leading choice in clear braces. Without the stigma and discomfort of traditional braces, more adults are straightening their teeth with Invisalign. Dr. Finlay utilizes the state of the art CAD/CAM Invisalign software to custom design your Invisalign treatment. The software allows Dr. Finlay to make virtually adjustments to your smile before treatment is ever initiated. This means you can see your projected results, before you even start wearing your aligners. This gives our patients the confidence that they are investing in the right cosmetic treatment to improve their quality of life.
Dr. Finlay will work with the CAD CAM system to create a series of clear aligners. These aligners will be worn for a predetermined amount of time and will gradually shift your teeth into alignment. Depending on your orthodontic needs, each set of aligners will be worn for about 2 weeks. Most treatments are completed within a year.
Crooked Teeth & Oral Health
Remember, crooked teeth are more than just a cosmetic concern. Crooked teeth make it difficult to properly brush and floss. Patients with crooked teeth may experience a higher rate of tooth decay, chipped or cracked teeth. Misaligned teeth may also cause damage to your bite, your teeth or to your gums. Many times, patients who suffer from TMJ have a misaligned bite or crooked teeth. Invisalign may be used in the treatment of TMJ.
The Power of A Beautiful Smile
Straightening your teeth can help to increase your confidence and the quality of your life. Straight teeth are more aesthetically pleasing and can help patients feel more confident in social and professional settings. Having a straight smile can also allow for improved oral health and will help to protect the integrity of your smile's foundation.
Schedule A Consultation
To find out what cosmetic or restorative dental treatments can help straighten your smile, contact our Annapolis dentist office. Dr. Finlay or Dr. Lim can help you build a comprehensive and conservative dental treatment plan to restore your oral health and create a beautiful smile.